Full results FP2 in Japan | Mercedes duo out of reach for Verstappen
The second free practice for the Japanese Grand Prix is over and there was plenty of driving on the Suzuka Circuit despite the rain. View the full results of FP2 here.
George Russell ends the second free practice session on top with a 1.41.935. The Mercedes drivers were fast in the wet conditions, with Max Verstappen constantly swapping for first position. In the end, Russell proved the fastest, Lewis Hamilton was two tenths slower and Verstappen and Sergio Perez were eight tenths short.
Ferrari struggling in Japan
Ferrari's men were noticeably absent during the second free practice session. Carlos Sainz still finished sixth, but had to leave a gap of over a second. Charles Leclerc finished just outside the top ten and had problems with his brakes. As a result, the Monegasque's session only managed ten laps.
In the top ten we further find Kevin Magnussen, who managed to set another fast time in the closing stages of the session where everyone else was either working on a longrun or already in the pits. Fernando Alonso, Valtteri Bottas, Esteban Ocon and Guanyu Zhou also finished in the top ten.
Full results of FP2 in Japan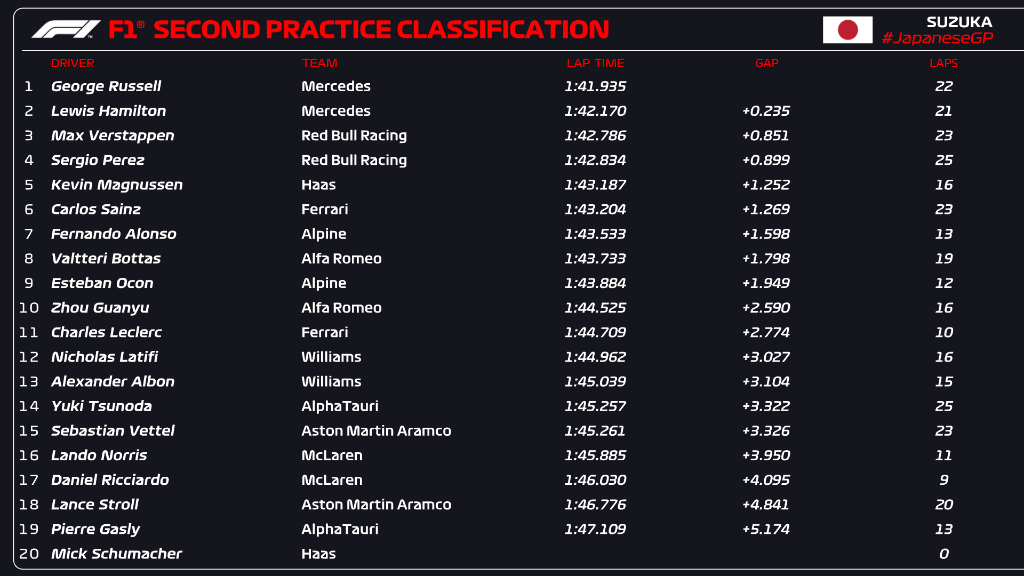 Source: Formula 1