Hughes on pole position at second Diriyah ePrix
After the third free practice session in Diriyah in which Mitch Evans came out fastest, it was time for the second qualifying session of the weekend. Jake Hughes managed to secure pole position in the final battle with Evans.
Qualifying kicked off with Group A, of which the four fastest times were set by Jake Hughes, Sébastien Buemi, Stoffel Vandoorne and Jake Dennis. This placed them in the quarter-finals. 
In Group B, Mitch Evans, René Rast, Pascal Wehrlein and Edoardo Mortara managed to finish in the top four, at the expense of Jean-Éric Vergne, among others. As in Group A, it was a tight battle. Strange incidents remained absent.
Knock-out phase
The first quarter-final was between former champion Vandoorne and Buemi. It appeared to be extremely close, but in the end the Swiss driver drove the fastest lap. Vandoorne will start the race in eighth place. Next it was the turn of Jake Hughes and current championship leader Jake Dennis. The latter lost the battle and had to cede a spot in the semi-finals to Hughes.
In the third quarter-final, two Germans battled for the fastest lap: Wehrlein and Rast. Rast managed to leave the winner of the last ePrix behind. This placed NEOM McLaren, also because of Hughes, with two cars in the semi-finals. The battle between Evans and Mortara was won by Evans. He was already doing well during the third free practice this morning with the fastest lap to his name.
In the first semi-final, Buemi took on Hughes. Hughes initially gained a big lead of four tenths, but Buemi managed to close the gap reasonably well. Still, Hughes took the victory and secured a spot in the battle for pole position. In the second semi-final, Evans managed to keep Rast behind.
The final battle
The battle for pole position between Evans and Hughes was close. Hughes was the faster of the two in the first phase of the lap, but Evans kept closing the gap. In the end, Evans still lost a tenth and Hughes secured pole position in his NEOM McLaren.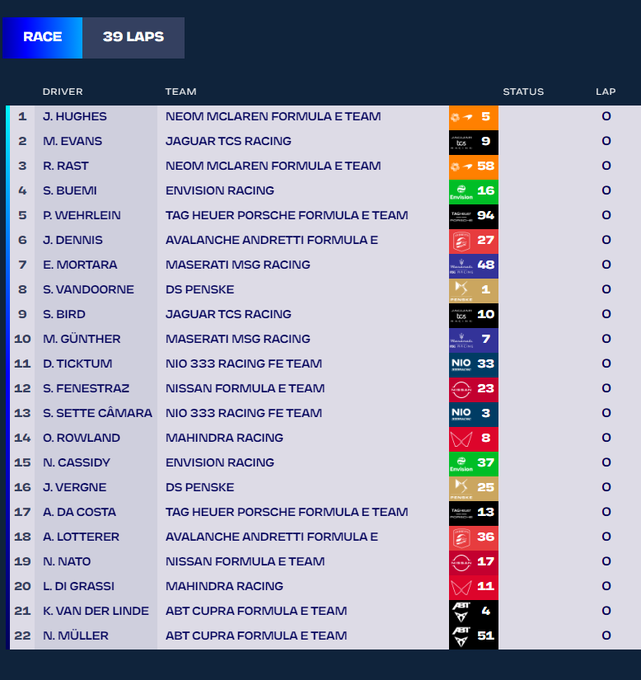 Tonight at 17:00 UK time, the third ePrix in Diriyah will take place.